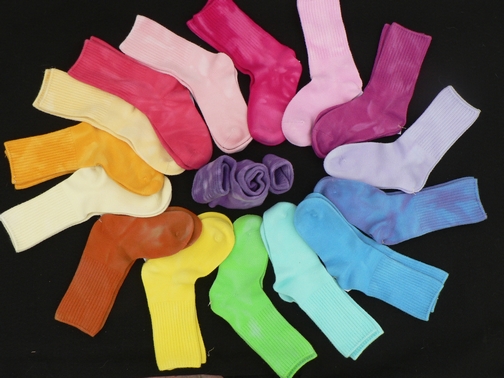 Hand-dyed bamboo socks
These sox are hand dyed in a rainbow of colors, some mixed. Bamboo is a rayon process done with bamboo fiber, (not the same bamboo that pandas eat.) Bamboo is both cool and warm-it wicks moister away from the foot and is reported to be anti-microbial (less smelly feet!) Warmer /cooler than cotton; not as warm as wool.
Sizes are Childrens: 4, 5, 6, 7 Women's: small (7), medium (9), large (11) Men's small (9), medium (11)
Please order directly by email or phone. I often have a good supply of color and size on hand. If I have to order a size to dye- it will take about 2 weeks.
Other items: Aprons, scarves velvet or rayon, bags, etc. Contact me - I can special order.