here.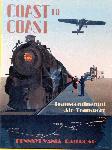 Coast to Coast, acrylic on canvas, 36" X 48"
---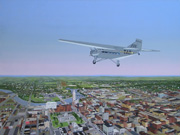 The City of Columbus, acrylic on canvas, 30" X 40"
---
In July, 1929, commercial air travel was born. Travelling Coast-to-Coast in under 48 hours was made possible by combining rail and air passenger service. This service, the brainchild of Charles Lindbergh, brought together the Pennsylvania and Santa Fe Railroads with the nascent airline, Transcontinental Air Transport (TAT). Passengers would board the Pennsylvania Railroad's Airways Limited at New York's Penn Station for a nighttime trip across the Alleghenies. The following morning they would debark on the outskirts of Columbus, Ohio, site of the brand new Port Columbus Airport. Boarding Ford Tri-motors, these intrepid travellers would fly across the midwest, making several stops before ending their day's journey in Waynoka, Oklahoma. They would then board a Santa Fe Railroad train for a night's travel across plains and desert to Clovis, New Mexico. Then, as the dawn sky was breaking, they would board other Tri-motors for the final journey into Los Angeles. Total travel time was 44 to 46 hours, a marvel for the age. The combined rail-air service continued for 18 months until aircraft capable of flying and landing at night became available.

Transcontinental Air Transport went on to become Trans World Airline, one of the great air carriers of the 20th Century. TWA fell on financial hard times in the 1980s, finally being taken over by American Airlines. The last TWA flight left Port Columbus International Airport on December 1, 2001.

To learn more about the history of Coast to Coast, click here.