Deb's Galleries
Click on a gallery name to go to that gallery.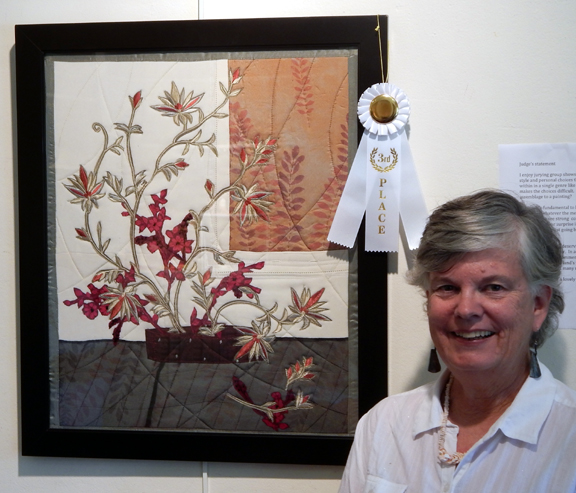 A love of African, Celtic, American and Caribbean travel, ocean and nature, ethnic artifacts and fabrics, forms the core of Deb's work in art quilts and in mixed media. Strong color and texture are evident as she dyes, paints, and stamps or cuts, prints, and collages. She incorporates natural elements into her largely impressionistic quilt wall hangings and paintings, adding beads, threads, shells and found objects to sharpen the images.
Deb began quilting traditional quilts in 1989 but found that she didn't like following rules and patterns. She began to create her own designs based on free-form, not block structure. Her drawing skills honed her observational skills and deepened her appreciation of the magical detail of nature. Her camera shot inspiring images. She used fabric for emotional expression and design.
Two years ago, after watching Tom paint for 40+ years, Deb took up a brush and experimented with watercolor, acrylic, papers, found objects and natural materials to create mixed media works.
Deb takes a studio class at the Columbus Cultural Arts Center with artist Bonnie Weir and attends Quilt Surface Design classes each year.
Contact Deb at: debbsyc@yahoo.com
---
Check out What's New in the galleries.